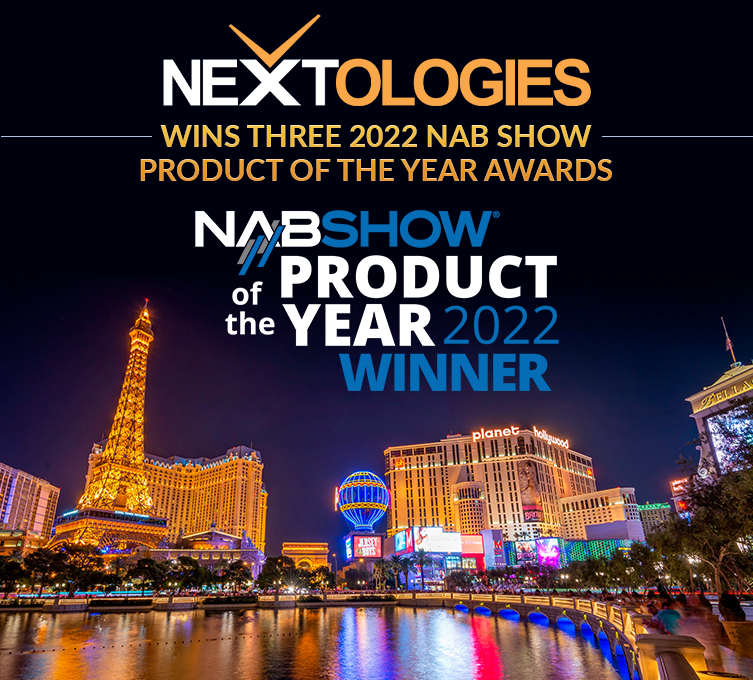 Nextologies LIMITED announced today that three of its products have been selected as winners in the 2022 NAB Show Product of the Year Awards: NexToMeet in the remote production category, DaVinci/HITC in hardware infrastructure, and Auto Commercial Detection (ACD) Technology in Asset Management, Automation, Playout. This official awards program recognizes the most significant and promising new products and technologies showcased by corporate partners of NAB Show.
NexToMeet is an instant web/mobile to SDI video network accomplished by implementing custom video solutions, along with IP stream's routing capability, to allow production teams to film interviews in any location with an iPhone or iPad webcam, then deliver that signal directly to SDI, no workarounds required.
DaVinci/HITC is a combination of Nextologies' proprietary algorithm "DaVinci" combined with HITC (Headend In The Cloud) to create the future of live and/or file based audio/video transport over any public network. DaVinci-powered HITC enables automated real time delivery of audio/video from anywhere to anywhere in the world, compensating for all forms of packet loss up to a hard disconnect (physical cut).
The ACD Solution, which Nextologies debuted at NAB Show, addresses a cumbersome challenge in the industry: how to do dynamic ad insertion without having SCTE because your playout does not support or have it. The solution is a system that can analyze any live IP-based video stream and-in real time-detect and mark detected commercials with SCTE for downstream replacement, or can do the replacement on its own.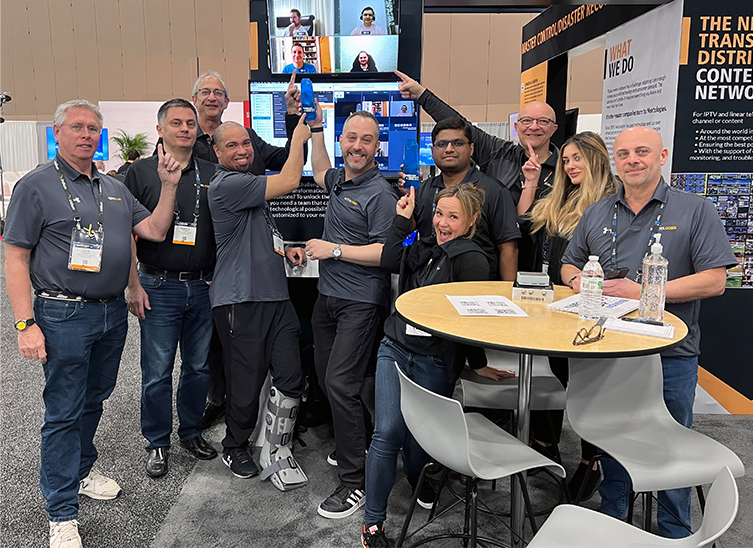 NAB Show Product of the Year Award Winners were selected by a panel of industry experts in 15 categories and announced in a live awards ceremony at NAB Show on April 26. To be eligible for an award, nominated products had to come from companies exhibiting at the 2022 NAB Show and are delivered within the 2022 calendar year.
"The 2022 NAB Show Product of the Year Awards honor innovative breakthroughs that will change the way the media and entertainment industry creates, connects and capitalizes content," said NAB Executive Vice President of Global Connections and Events Chris Brown. "We congratulate Nextologies on this award in recognition of NexToMeet, DaVince/HITC, and their ACD Solution and their potential to help storytellers meet the challenges of today and tomorrow."
"We're honored that NAB and its committee have selected our solutions as 2022 Products of the Year. It's a testament to the combination of creative thinking and technical expertise that our team puts into every solution we build," says Sasha Zivanovic, CEO and co-founder, Nextologies. "We always say that Nextologies exists to solve our partners' problems, and all three of these solutions are examples of that philosophy in action."
SHARE